RedOne, or Nadir Khayat, is a songwriter, singer, YouTuber, Instagram star, digital creator, and social media celebrity. The Moroccan-born music producer and songwriter has enjoyed success on a global scale for the past 20 years. Thirty-five of his over 70 international hits reached the top of the singles chart. He is a multiple "Grammy Award" winner and among the most sought-after producers in the world. Recently, Nadir Joined the FIFA World Cup as Creative Entertainment Executive.
His estimated net worth is approx. $3 million. Keep reading about his bio, wiki, life partner, social media, facts, career, wife, family, etc., in more detail.
Biography and Wikipedia:
RedOne was born in Morocco on April 9, 1972, He holds Moroccan nationality, and his zodiac sign is Aries. About his family and background, we don't have many details. But the man follows Islam as his religion. He was exposed to music from his home continent of Africa as well as that of Europe and the United States while growing up in Morocco.
| | |
| --- | --- |
| Real Name | Nadir Khayat |
| Nick Name | RedOne |
| Birthplace | Morocco, Tetouan |
| Date of Birth | April 9, 1972 |
| Age (in 2023) | 51 |
| Zodiac Sign | Aries |
| Nationality | Moroccan |
| Profession | Instagram Celebrity, YouTuber, Video Creator, Social Media Influencer |
Career Belongings:
His brother gave him a cassette of the "Final Countdown" song by Europe. This motivated him to start a band and learn how to play the guitar. He moved to Sweden with his best friend Redouan when he was 19 to pursue a music career.
Nadir eventually became homeless despite initially living with his brother's friend in Stockholm. He made dish-washing and vegetable sales outside for $40 per week. After a failed record deal, he eventually came to terms with the fact that he failed as a rock singer and chose to major in computer studies to support himself.
After getting creative with computer technology, he studied the computer-assisted music production industry in 1995. He presented a demo he had created to Rami Yacoub, another former rock musician, in 1996. Yacoub, a veteran producer, was impressed with the demo and asked RedOne to collaborate.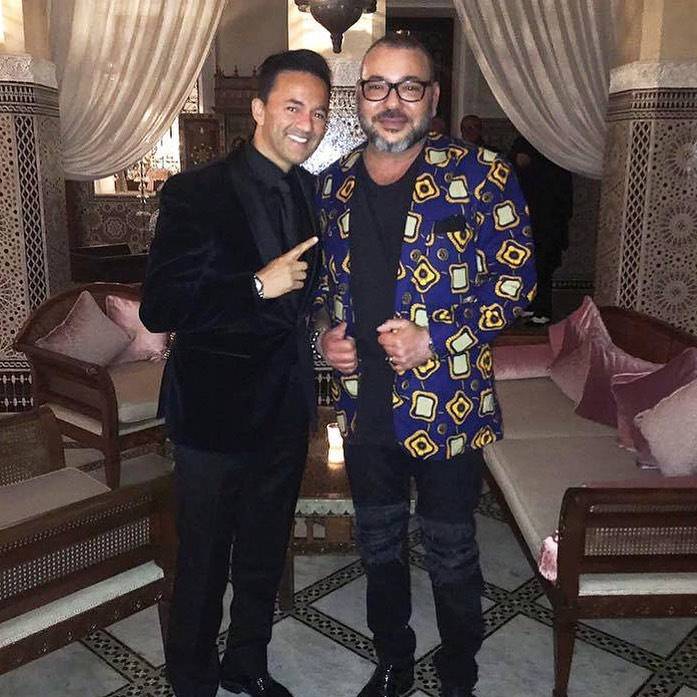 By 2001, he was well-known in Sweden. He co-produced the "A*Teens," a former ABBA tribute band, beginning that same year. When he contributed to Daniel Lindstrom's self-titled album and wrote the songs "Break Free" and "My Love Won't Let You Down," he received official recognition.
Together with Darin Zanyar and Bilal Hajji, he co-wrote the song "Step Up," which peaked at number one and earned Zanyar and Hajji a Swedish "Grammy" and a prize for "Scandinavian Song of the Year." He created the song "Bamboo" in 2006, which was chosen as the 2006 FIFA World Cup's anthem.
To try his luck there, he agreed to relocate to the US in 2007. Because of Jersey City's proximity to New York, he and his wife moved there. They were unable to pay the rent for a while and were penniless.
He finally struck it rich in America after meeting with "Epic Records." In front of label president Charlie Walk, he played the song "Whine Up" when Walk interrupted and called him a genius. The album "9 Lives" by Kat DeLuna was credited to him as producer.
Both RedOne and Lady Gaga's manager Laurent Besencon introduced them to one another. Their magical collaboration began when they wrote the song "Boys, Boys, Boys." He contributed significantly to the production of Gaga's debut album, "The Fame," in 2008. Together, they created the number-one hits "Just Dance" and "Poker Face."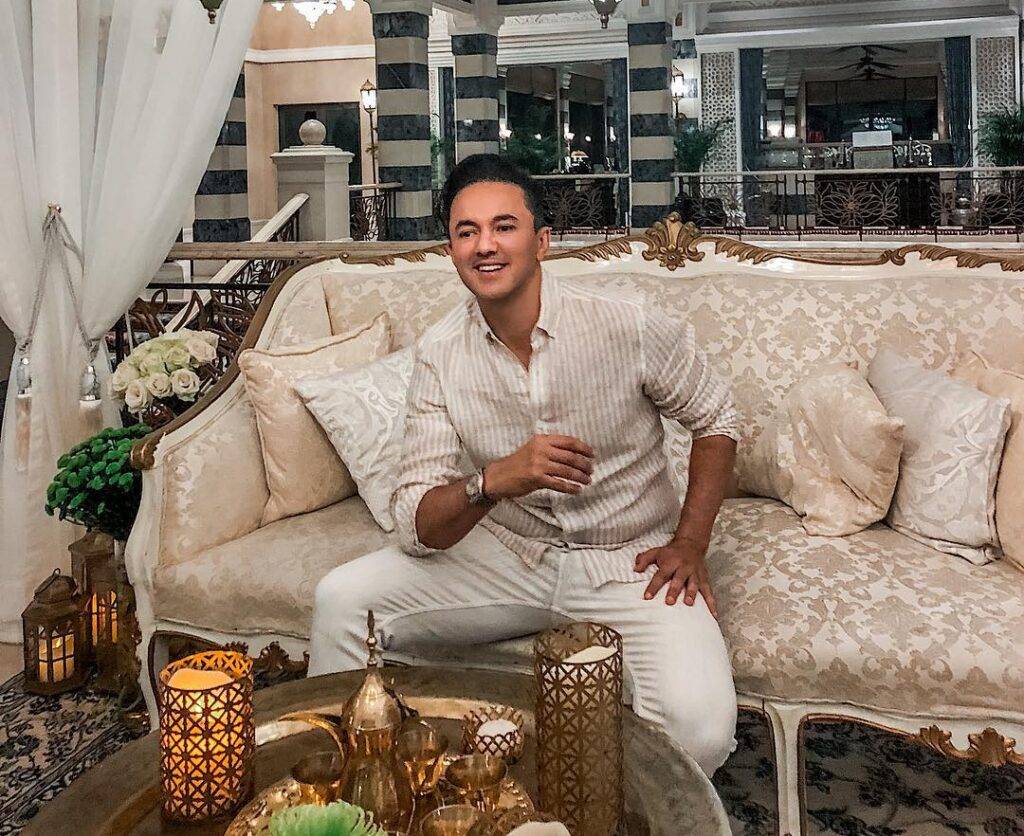 How did RedOne Become Famous?
He immigrated to the United States in 2007, and his first commercial success came when he co-wrote and produced Kat DeLuna's song "Whine Up" for Epic Records. RedOne produced his album, 9 Lives, and released "Whine Up" as a single, becoming a Top 30 hit.
Despite his early success, Nadir's career took a giant leap forward when he started working with Lady Gaga, an up-and-coming performer. The man has shown a knack for creating hits with artists other than Lady Gaga.
Birthday and Age:
The man was born on April 9, 1972, so as of 2023, He is 51. His star sign is Aries. He holds Morrocannationality.
Physical Appearance, Height, Weight, and Body Measurements:
RedOne is an intriguing celebrity with flawless skin and no beard. He is 65 kg in weight and 5'8″ tall. He is physically strong. His short black hair looks great, and she never uses various hair colors to change his appearance.
His appealing black eyes complement his pleasant demeanor very well. Moreover, his chest is 37 inches wide, 31 inches at the waist, and 13 inches at the biceps.
| | |
| --- | --- |
| Height | 5'8" |
| Weight | 65kg |
| Eye color | Black |
| Hair Color | Black |
Instagram:
Nadir started posting on Instagram in May 2014. The man posts his dashing and stunning photos and videos from lifestyle, events, hangouts, family, and interests. He has earned over 3.4 million followers with just 220 plus posts. He also posts amusing reels to entertain his fans. The singer doesn't add many details in his Instagram stories section.
Twitter:
Nadir joined Twitter in December 2009. He shares his latest YouTube videos, likes, and posts about football and his interests. The celebrity has got over 1 million followers with 7.1k tweets.
YouTube:
The man created its YouTube Channel on Jun 6, 2011. He uploadsexclusive music videos and audio soundtracks. The famous singer also uploaded theBTS of his muscle video. He has earned over 1.35 million subscribers with 336,649,030 views. On the most popular video on his YouTube channel, Nadir has 174 million views.
Parents and Siblings:
The famous personality has not made any statements about his mom, dad, and siblings on social media. According to Wikipedia, the man is not the only child of his parents, but the man stated that he is the youngest of his nine siblings.
Relationship Status and Dating History:
The 51 years old man is married to Laila Khayat, the love of his life. The couple is blessed with a son Danial. At present, he's living in Los Angles, California.
Interesting Facts:
He hails from Morocco.
The mas is also active on Facebook with 1.3 million followers.
He established Universal Music Group's joint venture 2102 Records in 2010.
In 2022, he celebrated his birthday in Dubai.
He released his debut song in 2016.
Net Worth and Assets:
RedOne's estimated net worth is about $5 million. The influencer makes money from his profession as a songwriter and singer, youtube, audio platforms, social media, and sponsorships. He has also invested in numerous side businesses. About his assets, he doesn't show his cars and bungalows on social media. So we didn't know.
Associated With:
Trinity Jo-Li Bliss is the most well-known American child singer, songwriter, and actress. Avatar: The Way of Water (Tuk, 2022), The Really Loud House (Stella Zhau, 2022), The Garcias (Alexa Huh Garcia, 2022), and other movies and television shows have featured Bliss.
Social Media:
Wardrobe/Clothing List:
If we talk about the man's clothing list, mostly he's appeared in the 3 -piece suit. But he also likes to wear a t-shirt with jeans, a t-shirt with shorts, a hoodie with trousers, a t-shirt with a jacket and dress pants, and casual outfits.
Why You Should Follow RedOne?
Nadir is an excellent motivation for his fans because of his inspiring journey.
He entertains his followers with his melodious songs on Youtube and social media.
The man never hides his personal details; he shares everything about himself on Instagram and Twitter.
Nadir has an energetic and fantastic personality.
Moreover, the celebrity also endorses some notable brands
Favorite Things:
| | |
| --- | --- |
| Favorite Actor | Not Known |
| Favorite Actress | Not Known |
| Favorite Food | Chicken Nuggets |
| Favorite Beverages | Coffee |
| Favorite Color | Grey, Black |
| Favorite Sport | Football |
| Favorite Sport Person | Cristiano Ronaldo |
| Favorite Singers | Not Known |
| Favorite Song | Not Known |
| Favorite Youtuber | beIN SPORTS MENA |
| Favorite Destination | New York |
LifeStyle:
Does RedOne drink Alcohol? No
Does RedOne smoke? No
Does RedOne swim? Yes
Does RedOne go to the gym? Yes
Does RedOne know about cooking? No
Does RedOne practice Yoga daily? No
FAQ:
Who is RedOne?
RedOne is a YouTuber, Singer, Song Writer, digital creator, and social media personality. He was born in Morocco on April 9, 1972. His zodiac sign is Aries. The producer and songwriter from Morocco have collaborated with numerous artists, including Lady Gaga, Jennifer Lopez, Pitbull, and Mariah Carey. In 2016, he also made available his debut single, "Don't You Need Somebody."
Does RedOne have a girlfriend?
He is a married man with a two-year son.
What is the age of RedOne?
As of 2023, he is 51 years.
When does RedOne celebrate His birthday?
His birthday is on April 9.
What is RedOne's zodiac sign?
His zodiac sign is Aries.

How much is RedOne's net worth?
RedOne's net worth is approx. $3 million.