Jatavia Shakara Johnson is an American rapper, model, digital creator, and social media person. Originally from Miami, Florida, Jatavia Shakara Johnson is a well-known American rap artist best known as one-half of the hit musical group City Girls. The female rapper, better known by her stage name JT, is a familiar face on social media. She frequently leverages her popularity and influence to market and advertises other products, causes, and campaigns.
Her estimated net worth is approx. $7 million. Keep reading about Jatavia Shakara Johnson's bio, wiki, life partner, facts, net worth, social media, etc., in more detail.
Biography and Wikipedia:
Jatavia Shakara Johnson was born in Opa Locka, FL, on December 3, 1992, she holds American nationality, and her zodiac sign is Sagittarius. The American female artist revealed that her mother was a drug addict who neglected to care for JT and her siblings as she grew up and had a difficult upbringing. After her parents divorced, Jatavia relocated to Miami's Opa-Locka and Liberty City to live with her father.
Living with her father didn't differ from living with her mother because both communities shared many similarities. JT had a turbulent adolescence. While in high school, she connected with Caresha Brownlee, also known as Yung Miami, through a network of friends, and the two became friends. Later, the pair started a band called City Girls.
| | |
| --- | --- |
| Real Name | Jatavia Shakara Johnson |
| Nick Name | JT |
| Birthplace | Opa Locka, FL |
| Date of Birth | December 3, 1992 |
| Age (in 2023) | 31 |
| Zodiac Sign | Sagittarius |
| Nationality | American |
| Profession | Instagram star, Rapper, Singer, Social Media Influencer, Model |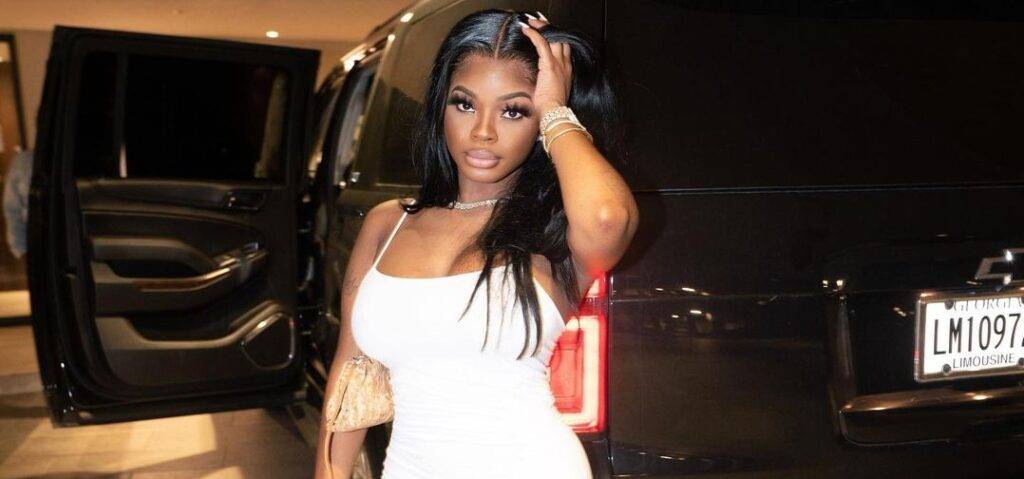 Career :
Early experiences greatly influenced Jatavia's decision to become a rapper. She had to grow up with a lot of dysfunction in her family. Contrary to many who, due to similar circumstances, are either shy or reserved, JT turned out to be exceptionally bold and outspoken. She frequently drew inspiration for the songs she wrote from her own experiences.
She began dancing in nightclubs and strip clubs due to her outgoing personality. She doesn't have a shy dancer or dresser quality. Jatavia and her friend would go to block parties to keep competing in rap battles as well as perform songs they had written together, in addition to dancing in strip clubs and nightclubs.
City Girls Band:
Her musical journey started in 2017. Following a disagreement JT had with some groups, the City Girls, a group formed under the influence of Yung Miami, were encouraged to record a song. They went back to her father's in-house studio with Yung Miami and recorded a diss track there after purchasing a beat from a producer friend that samples Khia Shamone Finch's 2002 hit song, "My Neck, My Back."
They gave their ex-boyfriends the song's title, "F**k Dat Nigga," in retaliation for failing to meet their needs. To their amazement, the song began to receive a lot of airplay and popularity, which marked the beginning of a more serious phase for their musical careers. Due to the subsequent events, they would eventually sign a record deal with the Quality Control Music record label.
In 2018, they created a music video to go along with the success of their single track, "F**k that Nigga." Hip-hop superstar DJ Khalid appeared in the video, quickly gaining popularity and receiving over 3 million YouTube views. This paved the way for numerous partnerships with prominent hip-hop figures like Drake, Lil Baby, Cardi B, and Jacquees.
How Jatavia Shakara Johnson Became Famous?
The City Girls gained notoriety after numerous guest appearances on "In My Feelings." They also joined Quality Control Music, whose label they used to release their first mixtape, "Period," in 2018. They also released two studio albums, Girl Code in 2018 and Act Up and City on Lock in 2020. Girl Code features the Platinum-certified singles "Twerk" and "Act Up," which also features Cardi B.
Birthday and Age:
The lady was born on December 3, 1992, so as of 2023, she is 31. Her star sign is Sagittarius. She holds American nationality.
Physical Appearance Height, Weight, and Body Measurements:
Jatavia is attractive, with broad lips, prominent jawlines, and a dark complexion. The woman is 74kg and stands at 5'5″. She has a bold, seductive, and endearing body. The star has curly long black hair, magnificently trimmed in steps. She tries different haircuts and colors to change her appearance.
Her original eye color is black, but she also uses lenses. JT'S personality is stunning and glamorous. However, her figure is 40 inches wide at the bust, 30 inches at the waist, and 42 inches at the hips.
| | |
| --- | --- |
| Height | 5'5" |
| Weight | 74kg |
| Eye color | Black |
| Hair Color | Black |
Instagram:
JT joined Instagram on 22 November 2019. And she earned over 6 million followers with just 83 posts. The curvy lady posts extra hot, alluring, and sultry photos from lifestyle, special events, and more. She shares her captivating videos and reels. The celebrity has not provided the extra details on this social media site.
TikTok:
The famous rapper also loves to create entertaining videos. On TikTok, she posts her dancing, attitude, expression, funny, musical, and entertaining videos. She has 881.5K followers, 8.9 million likes, and a 16 % avg engagement rate. She joined TikTok in November 2021.
Twitter:
JT has been amusing her Twitter audience since December 2011. The lady uses the platform to interact with her Twitter fans directly. She occasionally posts her captivating photos and videos. The woman has gained over 2.6 million followers with 9.1k plus tweets.
YouTube:
Jatavia doesn't have an individual YouTube channel. But she's officially present on the platform on the channel citygirls with her partner Yung Miami. The popular channel also has highlights from a range of artists, with about 1.48 million subscribers. The hit song "city Girls-Where The Bad At," which has received 20 Million views, was the title of Jatavia's debut video.
Parents and Siblings:
Although her parents' identities have not been made public, she is rumored to be the oldest of her mother's three children. She lived with her mother for a few early years of her life and then with her father and step-siblings for the remaining portion.
Relationship Status and Dating History:
Jatavia Johnson has not had as many lovers as most celebrities, but she has been outspoken about them, in contrast to many who keep their relationships private. The 27-year-old American rapper, singer, and songwriter Symere Bysil Woods, better known by his stage name Lil Uzi Vert, is her current boyfriend.
Since 2019, JT and Lil Uzi Vert have been dating. However, JT has come out and said they had been dating before her release from prison. They began dating precisely after her release. The Miami Superstar has used social media to express her love and admiration for Uzi Vert and what a great man he is.
Interesting Facts:
Jatavia Shakara Johnson hails from USA.
The woman goes through an adamant time throughout her initial and teenage years.
She's famous for her band, name citygirls.
The lady has millions of followers on all her social media sites.
She loves to explore her boyfriend.
Net Worth and Assets:
Jatavia Shakara Johnson's estimated net worth is about $7 million. The woman earns from rapping, singing, song's writing, youtube, social media, bold photoshoots, and sponsorships. She's also investing in side businesses to increase her income. Recently, her boyfriend gifted her a brand-new car.
Associated With:
Cardi B is a globally renowned rapper, actress, singer, Instagram star, and social media personality. She is most well-known for her upbeat flow and direct lyrics. She became a recognized online celebrity thanks to her success on Instagram and Vine.
Social Media:
Wardrobe/Clothing List:
Regarding the curvy lady's wardrobe, she enjoys wearing lingerie, bikini, mini dresses, swimwear, crop top with shirts, bodycon, crop tops with jeans, t-shirts with shorts, full leather outfits, full denim outfits, t-shirts with baggy jeans, hoodies with shorts, and a lot of sexy dresses. JT loves to wear fancy outfits on special occasions and weddings.
Why You Should Follow Jatavia Shakara Johnson?
Jatavia represents the numerous brand's products on her social media.
She showcases her toned figure in captitivitng outfits on Instagram.
The woman influences her audience with her melodious rapping songs on YouTube and other audio platforms.
She enjoys uploading sensual and attractive photos on her IG, which grabs her fan's attention.
Favorite Things:
| | |
| --- | --- |
| Favorite Actor | Not Known |
| Favorite Actress | Not Known |
| Favorite Food | Sushi, Beef Steaks |
| Favorite Beverages | Beer, Fresh Juice |
| Favorite Color | Yellow, Purple |
| Favorite Sport | Tennis |
| Favorite Sport Person | Carlos Alcaraz |
| Favorite Singers | Not Known |
| Favorite Song | Not Known |
| Favorite Youtuber | PewDiePie |
| Favorite Destination | Australia, New York |
LifeStyle:
Does Jatavia Shakara Johnson drink Alcohol? Yes
Does Jatavia Shakara Johnson smoke? No
Does Jatavia Shakara Johnson swim? Yes
Does Jatavia Shakara Johnson go to the gym? Yes
Does Jatavia Shakara Johnson know about cooking? Yes
Does Jatavia Shakara Johnson practice Yoga daily? No
FAQ:
Who is Jatavia Shakara Johnson?
Jatavia Shakara Johnson is an Instagram star, actress, model, tv personality, and social media influencer. She was born on December 3, 1992, in Opa Locka, FL. Her zodiac sign is Sagittarius. She became famous after appearing in Drake's song "In My Feeling." The rapper is also known for releasing her song, Twerk, in which Cardi B was a featured artist.
Is Jatavia Shakara Johnson married?
No, but she's in a relationship with Lil Uzi Vert.
When does Jatavia Shakara Johnson celebrate her birthday?
Her birthday is on December 3.

What is Jatavia Shakara Johnson's zodiac sign?
Her zodiac sign is Sagittarius.
What is Jatavia Shakara Johnson's height?
Where is Jatavia Shakara Johnson from?
She is from Opa Locka, FL.
How much is Jatavia Shakara Johnson's net worth?
Jatavia Shakara Johnson's net worth is approx. $7 million.